Product Summary
The AD620AN is a low cost, low power instrumentation amplifier. The AD620AN features 8-lead SOIC and DIP packaging that is smaller than discrete designs, and offers lower power (only 1.3 mA max supply current), making it a good fit for battery powered, portable (or remote) applications. The AD620AN with its high accuracy of 40 ppm maximum nonlinearity, low offset voltage of 50 mV max and offset drift of 0.6 mV/℃ max, is ideal for use in precision data acquisition systems, such as weigh scales and transducer interfaces.
Parametrics
AD620AN absolute maximum ratings: (1)Supply Voltage: ±18 V; (2)Internal Power Dissipation: 650 mW; (3)Input Voltage (Common Mode): ±VS; (4)Differential Input Voltage: ±25 V; (5)Output Short Circuit Duration: Indefinite; (6)Storage Temperature Range (Q): –65℃ to +150℃; (7)Storage Temperature Range (N, R): –65℃ to +125℃; (8)Operating Temperature Range: –40℃ to +85℃; (9)Lead Temperature Range(Soldering 10 seconds): +300℃.
Features
AD620AN features: (1)Excellent ac specifications; (2)120 kHz Bandwidth (G = 100); (3)15 ms Settling Time to 0.01%; (4)APPLICATIONS; (5)Weigh Scales; (6)ECG and medical instrumentation; (7)Transducer Interface; (8)Data Acquisition Systems; (9)Industrial Process Controls; (10)Battery Powered and Portable Equipment; (11)Wide Power Supply Range (62.3 V to 618 V); (12)Higher Performance than Three Op Amp IA Designs; (13)Available in 8-Lead DIP and SOIC Packaging; (14)Low Power, 1.3 mA max Supply Current.
Diagrams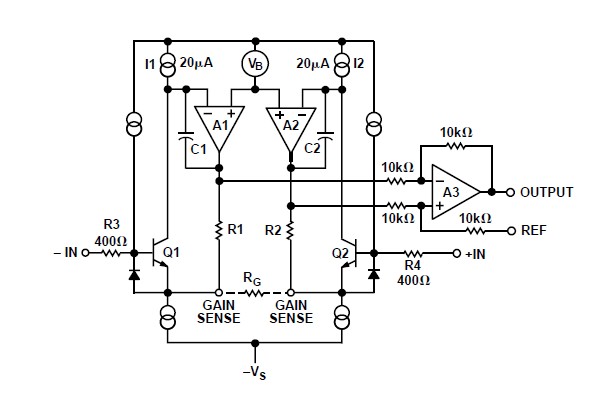 Image
Part No
Mfg
Description
Pricing
(USD)
Quantity

AD620AN



IC AMP INST LP LN 18MA 8DIP

Data Sheet



AD620ANZ



IC AMP INST LP LN 18MA 8DIP

Data Sheet



| | |
| --- | --- |
| 0-1: | $4.76 |
| 1-10: | $4.29 |
| 10-25: | $3.91 |
| 25-100: | $3.53 |
| 100-250: | $3.24 |
| 250-500: | $2.95 |
| 500-1000: | $2.57 |
| 1000-2500: | $2.54 |