Product Summary
The STW20NB50 is a N channel 500V 0.22W 20A to-247 power MESH MOSFET. Using the latest high voltage technology, STMicroelectronics of the STW20NB50 has designed an advanced family of power Mosfets with outstanding performances. The new patent pending strip layout of the STW20NB50 coupled with the Companys proprietary edge termination structure, gives the lowest RDS(on) per area, exceptional avalanche and dv/dt capabilities and unrivalled gate charge and switching characteristics.
Parametrics
STW20NB50 absolute maximum ratings: (1)VDS Drain-source Voltage (VGS = 0): 500 V; (2)VDGR Drain- gate Voltage (RGS = 20 kW): 500 V; (3)VGS Gate-source Voltage: ± 30 V; (4)ID Drain Current (continuous) at Tc = 25 ℃: 20 A; (5)ID Drain Current (continuous) at Tc = 100 ℃: 12.7 A; (6)IDMDrain Current (pulsed): 80 A; (7)Ptot Total Dissipation at Tc = 25 ℃: 250 W; (8)Derating Factor: 2 W/℃; (9)dv/dt(1) Peak Diode Recovery voltage slope: 4 V/ns.
Features
STW20NB50 features: (1)Typical RDS(on) = 0.22 W; (2)Extremely high dv/dt capability; (3)± 30V gate to source voltage rating; (4)100% avalanche tested; (5)Repetitive avalanche data at 100℃; (6)Very low intrinsic capacitances; (7)Gate charge minimized.
Diagrams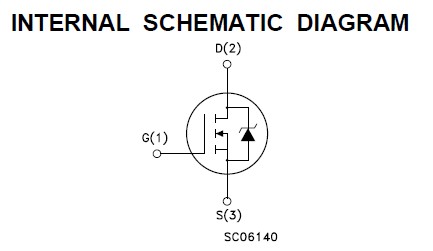 Image
Part No
Mfg
Description
Pricing
(USD)
Quantity

STW20NB50

STMicroelectronics

MOSFET N-Ch 500 Volt 20 Amp

Data Sheet

Negotiable
Image
Part No
Mfg
Description
Pricing
(USD)
Quantity

STW200NF03

STMicroelectronics

Transistors Bipolar (BJT) N-Ch 30 Volt 120 Amp

Data Sheet

Negotiable

STW2040

STMicroelectronics

Transistors Bipolar (BJT) NPN Power Transistor

Data Sheet



| | |
| --- | --- |
| 0-1: | $1.28 |
| 1-10: | $1.15 |
| 10-100: | $0.94 |
| 100-250: | $0.87 |


STW20N95K5

STMicroelectronics

MOSFET N-Ch 950V 2.75 Ohm 17.5A SuperMESH 5

Data Sheet



| | |
| --- | --- |
| 0-1: | $4.14 |
| 1-10: | $3.73 |
| 10-100: | $3.06 |
| 100-250: | $2.81 |


STW20NB50

STMicroelectronics

MOSFET N-Ch 500 Volt 20 Amp

Data Sheet

Negotiable

STW20NK50Z

STMicroelectronics

MOSFET N-Ch 500 Volt 17 Amp Zener SuperMESH

Data Sheet



| | |
| --- | --- |
| 0-1: | $1.87 |
| 1-10: | $1.57 |
| 10-100: | $1.40 |
| 100-250: | $1.25 |


STW20NK70Z

STMicroelectronics

MOSFET N-Ch 700 Volt 20 Amp

Data Sheet

Negotiable